Campaign engages IFC at World Bank Annual Meetings
Stop Financing Factory Farming
12th October '22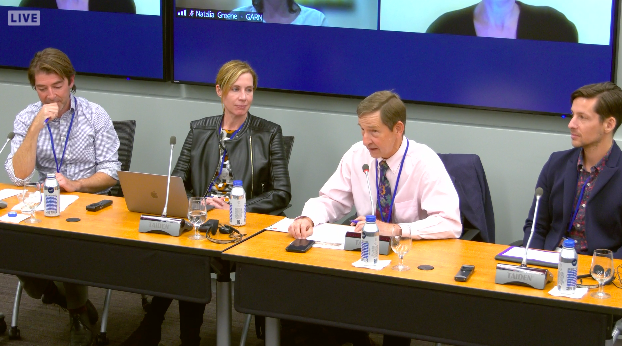 Stop Financing Factory Farming panel at the Civil Society Policy Forum, October 2022
Representatives of the Stop Financing Factory Farming campaign hosted a panel at the World Bank Civil Society Policy Forum.
WASHINGTON, D.C. – Representatives of the campaign met in person for an educational session as part of the World Bank Annual Meeting's Civil Society Policy Forum. The event was framed by posing the critical questions: "Should IFC Support Industrial Livestock? What are the alternatives?"
The panel discussion was held between representatives of campaign member organisations Sinergia Animal, Friends of the Earth US, World Animal Protection, and partner CEDENMA. Ladd Connell from Bank Information Center moderated.
Merel van der Mark from Sinergia highlighted that development banks need to align their investments with the Paris Agreement. "Factory farming is undermining the Sustainable Development Goals and the Paris Agreement. It is one of the main sources of methane emissions, and therefore a catalyst for climate change," she said. "Addressing methane emissions is crucial to limit warming to no more than 1.5ºC".
Kelly McNamara, Friend of the Earth U.S focused on the failings of the World Bank's policies and practices. "The World Bank should abide by its own advice, which acknowledges the impacts of feed for factory farming as a major pressure on natural resources, creating competition between food for farmed animals and humans". She added, "An exclusion policy will be a crucial tool to shift development finance away from factory farming and incorporate incremental changes".
The panel also brought home to Washington, D.C. the dire local impacts of factory farming projects supported by the World Bank and other development banks. Natalia Greene from CEDEMNA reported the documented violations of IFC standards by loan recipient PRONACA in Ecuador, and the accompanying inadequacy of access to information for affected communities. Currently, lack of transparency in IFC and other development bank investment processes are justified by undemocratic "privacy of investment" policies.